Boating Accident Lawyers
Sign Up For Our Newsletter
California boating accident attorneys can make a difference in your settlement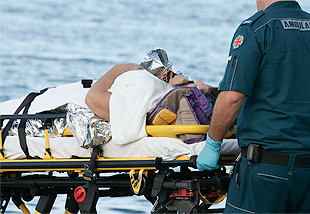 Southern California has one of the world's most pleasant, warm and inviting climates that is perfect for boating. This amazing climate coupled with our proximity to the ocean, many inland lakes here and in neighboring Arizona and Nevada is a winning combination. It is no surprise that boating is very popular for Californians during the spring and summer months. If you have been involved in a boating accident and are the victim of another's carelessness, negligence or even equipment failure you may have a case. If so, having an experienced and skilled personal injury attorney represent you with your boating accident case will give almost always get a larger settlement than if you were to attempt to negotiate on your own.
California Boat & Watercraft owners are numerous and involved in many accidents each year
Many individuals pilot motorboats, yachts, fishing boats, sail boats, ski boats, speed boats, and Personal Water Craft (PWC, or "Jet Skis") for leisure, relaxation, and recreation here in California and connecting lakes in Arizona and Nevada such as Lake Mohave, Lake Powell, Lake Havasu, Lake Mead and others.

When you planned your boating excursion, the last thing you expected to happen was a boating accident, but many people are confronted with this harsh reality every year.  Boating accidents often result in significant injuries and damage that can be both painful and costly. Boating accidents may result in catastrophic injuries that could affect a person for the rest of their life. When someone else is responsible for causing the accident you will want to take legal action against them by filing a personal injury lawsuit.
Boating accident claims are often shot down by powerful insurance companies
Often the victims of boating accidents will try to represent themselves in their boating accident claims, only to find that their claims are denied or delayed.
There are many common factors that can contribute to boating accidents, including:
Operator error
Operator inexperience
Operator is drunk or impaired
Serious and willful misconduct

Negligent operators
Equipment Failure
Bad weather conditions
Whether a defective watercraft, a negligent swimmer, or another boat or Jet Ski pilot is responsible for causing your boat accident, your personal injury attorney will do everything they can to establish liability so that compensation will be provided.
The process of obtaining this compensation requires extensive knowledge of the law and litigation experience. It is important for boating accident victims to obtain a qualified Southern California personal injury accident lawyer, who will defend the victim's rights and help to obtain proper compensation.
---
Contact a California Personal Injury Lawyer
The personal injury attorneys at Vincent W. Davis & Associates represent clients injured on vehicle accidents, workplace accidents, accidents on another's property, medical malpractice and wrongful death cases. If you think you may have a personal injury case, please do not hesitate in enlisting the expert legal assistance you need to make things right. It costs nothing to call us, costs nothing for a consultation, and costs nothing to get us started looking out for your rights if we agree that you have a solid case.
Unexpected and unfortunate things happen to good people. Our caring legal professionals are here to help you recover and get on with your life. Remember, all legal fees are based on a percentage of the award, and you pay nothing for our services until we win your case. We have several conveniently-located offices around Southern California Counties & Cities including, but not limited to:
Alhambra
Anaheim
Bakersfield
Buena Park
Burbank
Carlsbad
Carson
Chula Vista
Compton
Corona
Costa Mesa
Downey
El Cajon

El Monte
Escondido
Fontana
Fullerton
Garden Grove
Glendale
Hawthore
Hemet
Hesperia
Huntington Beach
Inglewood
Irvine
Kern

Lakewood
Lancaster
Long Beach
Los Angeles
Mission Viejo
Moreno Valley
Murrieta
Newport Beach
Norwalk
Oceanside
Ontario
Orange
Oxnard

Palmdale
Pasadena
Pomona
Rancho Cucamonga
Rialto
Riverside
San Bernardino
San Diego
San Marcos
Santa Ana
Santa Barbara
Santa Clarita
Santa Maria

Santa Monica
Simi Valley
South Gate
Temecula
Thousand Oaks
Torrance
Ventura
Victorville
Vista
West Covina
Westminster
Whittier
And more…
---
To schedule a FREE, confidential, no obligation consultation with a Personal Injury Attorney from the Vincent W. Davis & Associates, call us at (626) 446-6442 or submit a FREE Case Evaluation Form. Email: [email]vince.davis@californiapersonalinjurylawyers.pro[/email]
FREE

CONSULTATION ON INJURY CASES

NO FEE

UNTIL YOU COLLECT



Personal injury attorneys in Southern California , Vincent W Davis and Associates are Injury & Auto Accident Lawyers that offer legal help with Personal Injury, Insurance Bad Faith, Auto Accident, Wrongful Death, Birth Injurys, Motorcycle Accidents, and slip & fall injuries throughout California.