Jet Ski Accident Lawyers
Sign Up For Our Newsletter
California jet ski accident lawyers help those injured in personal watercraft accidents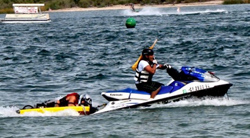 If you or a loved one has been seriously injured in a jet ski accident or personal watercraft (PWC) accident, it is possible that your life has been altered for a season —of for a lifetime. Jet Ski Accidents can happen in an instant, the the victim's recovery can take months or years, mounting up costly medical bills and keeping one from earning a living. It is not unusual if your own insurance company –or that of the boater that may have caused the accident– is delaying or outright denying your claim. The personal injury lawyers at Vincent W. Davis & Associates can help you receive the benefits you need to help you in your recovery, make up for lost income and possible even future lost income.
Jet Ski Accident Statistics
The accident statistics involving personal watercraft (PWC) injuries and deaths are staggering. In 2011, a Coast Guard report counted 4,588 boating accidents that involved 758 deaths, and 3,081 injuries. Personal Watercraft accounted for 19% of the accidents, or about 900 accidents. The Coast Guard report doesn't tell the whole story however, a 13-year old report from The National Transportation Safety Board regarding Personal watercraft safety pegs the number (more than a decade ago) at 4,000 PWC accidents with 57 PWC deaths and 1,831 persons injured. Seems that much of the PWC statistics are voluntarily reported by the states.
High Speeds and Rider's lack of Protection Add Up to Serious Injuries and Fatalities
Unlike most boating fatalities where the deaths are attributed to drowning, in the majority of PWC fatalities, more persons die from blunt force trauma given the speeds jet skis can reach and the PWC rider's relative lack of protection (e.g. riding atop the craft like a motorcycle). Jet Ski collision accidents often result in serious injuries such as traumatic brain injuries (TBI), spinal cord injuries, broken bones, soft tissue injuries, and death.
Former Astronaut, Alan Poindexter, killed in Jet Ski Accident off Florida Coast
Former NASA Astronaut Alan Poindexter Dies In Jet Ski Crash
Astronaut Alan Poindexter braves multiple launches on the most powerful machine ever constructed (the space shuttle), then is killed on a $8,000 personal watercraft." Lesson? — Personal Watercraft can be dangerous!
Space Accomplishments: August 1998. Initially, Poindexter served in the Astronaut Office Shuttle Operations Branch performing duties as the lead support astronaut at Kennedy Space Center. In December 2002, he was named as Pilot on STS-120 mission to deliver the Harmony connecting node to the International Space Station; an assignment which abruptly ended with the Space Shuttle Columbia disaster just two months later. In July 2006, Poindexter was assigned as Pilot on the STS-122 mission that delivered the European Space Agency's Columbus Laboratory to the International Space Station in February 2008.
High Speeds and Rider's lack of Protection Add Up to Serious Injuries and Fatalities
Jet Skis, when operated safely by experienced boaters, can be wonderful, enjoyable family-friendly water sport. Unfortunately, some personal watercraft users are reckless and negligent in the way they operated these powerful machines sometimes cause serious injury to themselves or innocent boaters around them. When a jet ski accident happens, there are a number of parties who may be held liable for damages, including the negligent personal watercraft operator, the rental company, the property or marina owner and the personal watercraft manufacturer. If you or a loved one has been injured or killed in a personal watercraft injury, you may be eligible for monetary damages.
News Stories of Personal Watercraft Mishaps & Jet Ski Accidents
---
Contact a California Personal Injury Lawyer
The personal injury attorneys at Vincent W. Davis & Associates represent clients injured on vehicle accidents, workplace accidents, accidents on another's property, medical malpractice and wrongful death cases. If you think you may have a personal injury case, please do not hesitate in enlisting the expert legal assistance you need to make things right. It costs nothing to call us, costs nothing for a consultation, and costs nothing to get us started looking out for your rights if we agree that you have a solid case.
Unexpected and unfortunate things happen to good people. Our caring legal professionals are here to help you recover and get on with your life. Remember, all legal fees are based on a percentage of the award, and you pay nothing for our services until we win your case. We have several conveniently-located offices around Southern California Counties & Cities including, but not limited to:
Alhambra
Anaheim
Bakersfield
Buena Park
Burbank
Carlsbad
Carson
Chula Vista
Compton
Corona
Costa Mesa
Downey
El Cajon

El Monte
Escondido
Fontana
Fullerton
Garden Grove
Glendale
Hawthore
Hemet
Hesperia
Huntington Beach
Inglewood
Irvine
Kern

Lakewood
Lancaster
Long Beach
Los Angeles
Mission Viejo
Moreno Valley
Murrieta
Newport Beach
Norwalk
Oceanside
Ontario
Orange
Oxnard

Palmdale
Pasadena
Pomona
Rancho Cucamonga
Rialto
Riverside
San Bernardino
San Diego
San Marcos
Santa Ana
Santa Barbara
Santa Clarita
Santa Maria

Santa Monica
Simi Valley
South Gate
Temecula
Thousand Oaks
Torrance
Ventura
Victorville
Vista
West Covina
Westminster
Whittier
And more…
---
To schedule a FREE, confidential, no obligation consultation with a Personal Injury Attorney from the Vincent W. Davis & Associates, call us at (626) 446-6442 or submit a FREE Case Evaluation Form. Email: [email]vince.davis@californiapersonalinjurylawyers.pro[/email]
FREE

CONSULTATION ON INJURY CASES

NO FEE

UNTIL YOU COLLECT



Personal injury attorneys in Southern California , Vincent W Davis and Associates are Injury & Auto Accident Lawyers that offer legal help with Personal Injury, Insurance Bad Faith, Auto Accident, Wrongful Death, Birth Injurys, Motorcycle Accidents, and slip & fall injuries throughout California.